Ring of Remembrance
Each of the victim's families were asked to provide a unique and personal reflection in text that would honor their loved one. These remembrances were engraved in stone and stand as a tribute to the victims at Columbine High School.
At the center of the Ring of Remembrance lies the "Never Forgotten" ribbon designed by Kyle Velasquez's parents, Al and Phyllis.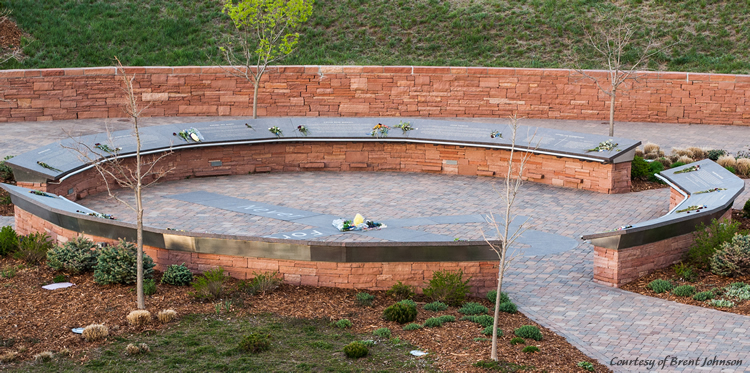 Wall of Healing
The Wall of Healing was designed to honor all those who were injured, the first responders and all those who were touched by the events of April 20, 1999.  The shootings at Columbine High School affected the nation and the world in many ways.  As the largest part of the Columbine Memorial, the Wall of Healing is in place to recognize those who were injured, and provide an opportunity for the public to remember and reflect on their own personal experience. Many of the injured victims or their families specifically requested their names not be listed in the Memorial and that request was honored by the Memorial Design Committee. The wall consists of many engraved stones with quotes from students, the community, parents, first responders, and notable statements that were made at the groundbreaking of the Columbine Memorial.